It is with some satisfaction that we continue to receive uninterrupted weather data from the meteorological station installed at the Karen Mogensen reserve, near the Italia Costa Rica station.
Contact had been lost for a few days, probably due to a hardware block of the data logger due to power cuts, as in the rainy season the solar panels are not always able to charge the batteries sufficiently. Fortunately, however, the data flow was resumed regularly, and no data was lost.
Thus we see from the Weatherlink software where the data is received, at the Geophysical Observatory of DIEF UNIMORE, that the month of October has a substantially normal trend for the season, with abundant and frequent rains, but in fact in line with the climatology obtained from the Reanalysis.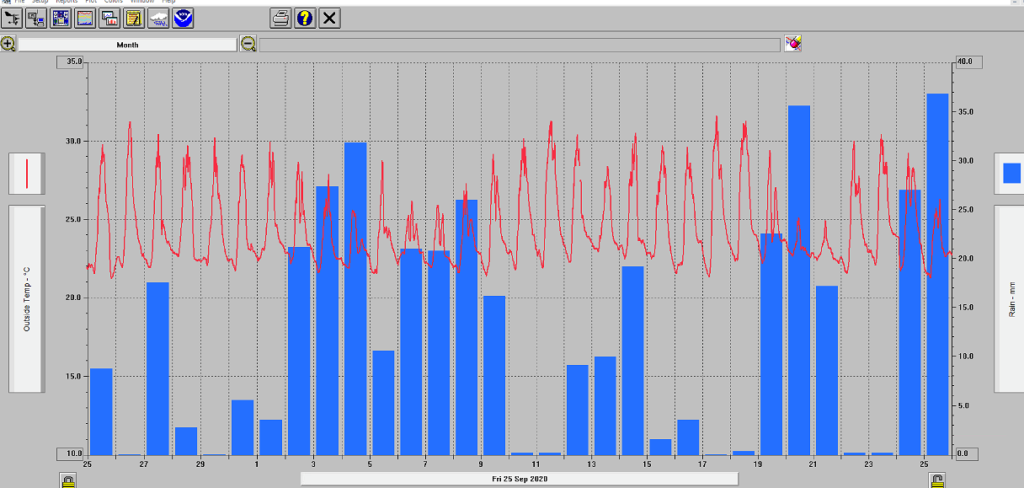 To date, October 26, 2020, 362.7 mm of rain have fallen in the month, only one day, the 17th, has not recorded any measurable precipitation.
Yesterday, October 25, in particular, the maximum daily rainfall in the month was recorded, with 36.8 mm concentrated in two intense showers, one around noon local and one around 03:00 pm.
The weather situation of these days in fact sees the presence of the intertropical convergence zone just near the Nicoya Peninsula, with the passage of frequent tropical waves. There are no tropical storms or hurricanes near Costa Rica, but a marginal influence of Hurricane Zeta, which heads towards the Yucatan and the Gulf of Mexico, draws humid and warm air from the Pacific Ocean. However, this system will not affect or impact Costa Rica.
To give some comparison, last year in October the rains totalled 380.0 mm in total, with a maximum of 80.8 mm on 13/10/2019, and in the month the temperatures were substantially in line with those recorded in this month of 2020. .
On the other hand, it was much wetter in October 2018, when 647.8 mm fell, with three days of truly torrential rain, from the 3rd to the 5th of the month, with a daily maximum of 244.4 mm.
The next few days will still be often rainy, due to the presence of the Monsoon Trof, defined as an enlarged low pressure zone along the ICTZ, a zone of intertropical convergence.
From climatology, in the month of November the rainy season should be thinning out, on average next month it sees about 180 mm, the middle of October, while only from December the rainy season will end, leading the area to the dry season.
We continue our weather monitoring, useful to understand the behaviour of biodiversity and, over time, to build a climatological database and better understand how the local climate changes.
Curated by Luca Lombroso, AMPRO Meteorologist