May with few rain at the Karen Mogensen Reserve
The monthly weather report by the Geophysical Observatory UNIMORE shows that at the "Italia Costa Rica" weather station, located in the Karen Mogensen reserve, the average temperature was 25.5 ° C. The station has only been in operation for 4 years, so it does not yet have sufficient measures to obtain a climate trend. However, some considerations can be made, May 2021 appears substantially in the climatic average. Among the measures, we note that last year May was much warmer, with an average of 27.2 ° C, while in 2018 it was much cooler, due to the presence of la Nina that year, with 24.2 ° C. The rainy season has begun and 111.0 mm fell in the month, a value that is lower than the average for the period, which in this month would see an average of about 200 mm of precipitation.
Few data to obtain trends, we said, but they already show how interesting it is to observe the climate in the area. The meteorological and climatic time series are constructed day by day and year by year, and having already five years of measurements with few interruptions, limited to the first operational periods, encourages us to continue our efforts to keep this activity alive.
CLIMATE IN JUNE AND JULY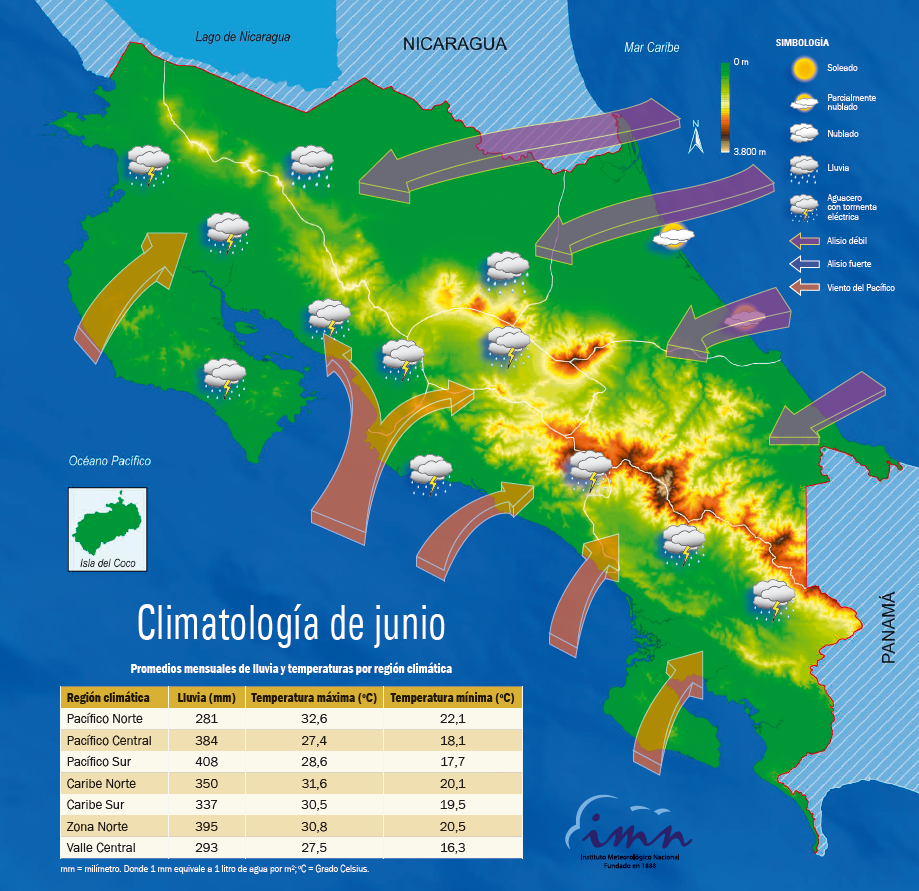 The National Meteorological Institute of Costa Rica – IMN, points out in a facebook post that in June the amounts of rainfall vary from 280 mm up to 410 mm. The North Pacific is the driest region and the South Pacific the wettest. Mornings are often dry and hot, but in the evening it rains very heavily with storms, even with hail events. This is the most frequent month of mini tornadoes (87% are recorded in the Central Valley). June also marks the beginning of the season of tropical waves and Atlantic Ocean hurricanes. Despite the rain, however, at the end of the month there is a relief: the characteristic and expected veranillo of San Juan, from about 24 June.
From our data, in the last 4 years, from 2017 to 2020, we have observed an average temperature of 25.8 ° C and an average rainfall of 284 mm. In July, thanks to the Veranillo, the rainfall in Karen Mogensen drops to 184 mm, without significant changes in the average temperature, which remains at 25.5 ° C. the absolute maximum temperatures in July and August are not high, the maximum peak was 33.7 ° C.