Extraordinary and interesting observation thanks to the Meteorological Station at the Karen Mogensen reserve, Costa Rica.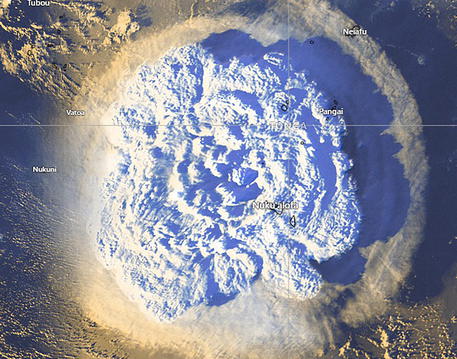 The weather station located at the "Italia Costa Rica" Biological and Meteoclimatic Station recorded, at 7:45 local time (13:45 UTC) on 15 January 2022, an anomalous variation in atmospheric pressure due to the propagation of the wave impact of the explosion of the Hunga Tonga-Hunga Ha'apa underwater volcano, 65 km from the capital of the Tonga Islands.
The eruption occurred at 4:10 UTC, corresponding to 22:10 on January 14, 2022 in Costa Rica. The pressure wave that was generated then took 9:45 hours to reach Costa Rica. The distance from Tonga to Costa Rica is about 11000 km. The estimated propagation speed is therefore 313 m / s, equal to 1128 km / h.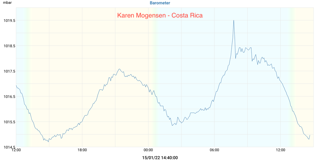 The pressure wave literally went around the world, as the Geophysical Observatory of the University of Modena and Reggio Emilia found. In Modena there was a first wave of atmospheric pressure coming from the north at 21 Italian (20 UTC ), then a second at 22:00 (21:00 UTC) from the east and a third at 22:30 (21:30 UTC), this presumably from a west direction, therefore the same observed in Costa Rica.
From Costa Rica the pressure wave took about 8 hours to reach Italy, traveling faster than an airliner which takes 10-11 hours on the route from Costa Rica to Europe!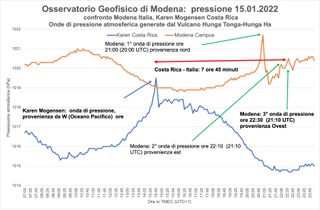 The data indicated here are provisional and to be checked and validated, what we now want to emphasize is the importance of having a weather observation point that can thus provide very interesting data not only for the biological and naturalistic research of the Biological Station and Meteoclimatic Italy Costa Rica, but also to observe natural phenomena of this type.
It should be remembered that earthquakes, eruptions, volcanoes and tsunamis have not only shaped the geology of the planet, but also affect the atmosphere and of course biodiversity. On planet Earth, in fact, everything is connected, and it is impressive how a distant phenomenon has had repercussions, even if not direct and fortunately without damage, observable at such a great distance from the Tonga Islands even here at the Karen Mogensen Reserve Station!